WhatsApp Group
Join Now

WhatsApp Channel
Follow Now

Telegram Group
Join Now
Shriram Pistion and Prerna Group Job Campus 2023 | ITI Jobs | Diploma Jobs
Shriram Pistion and Prerna Group Job Campus 2023: हैलो दोस्तों आपका पहले न्यूज पोर्टेल पर स्वागत है आज हम आपको Shriram Piston और Prerna Group कंपनी मे होने वाली सीधी भर्ती के बारे मे बताने वाले है । पहले आपको बता दे की Shriram Piston और Prerna Group कंपनी अपने रिक्त पदों पर ITI/डिप्लोमा पास छात्रों की भर्ती हेतु कई जगह आईटीआई कॉलेज/डिप्लोमा कॉलेज मे कॅम्पस का आयोजन करती रहती है, इन कॅम्पस मे Shriram Piston और Prerna Group कंपनी के प्रतिनिधि जाकर कॅम्पस का आयोजन करते है । इन कॅम्पस मे भाग लेने वाले छात्रों का इंटरव्यू लिया जाता है और एक छोटी सी लिखित परीक्षा होती जो भी छात्र योग्य होता है उसे कॅम्पस मे ही जॉइनिंग लैटर दिया जाता है ।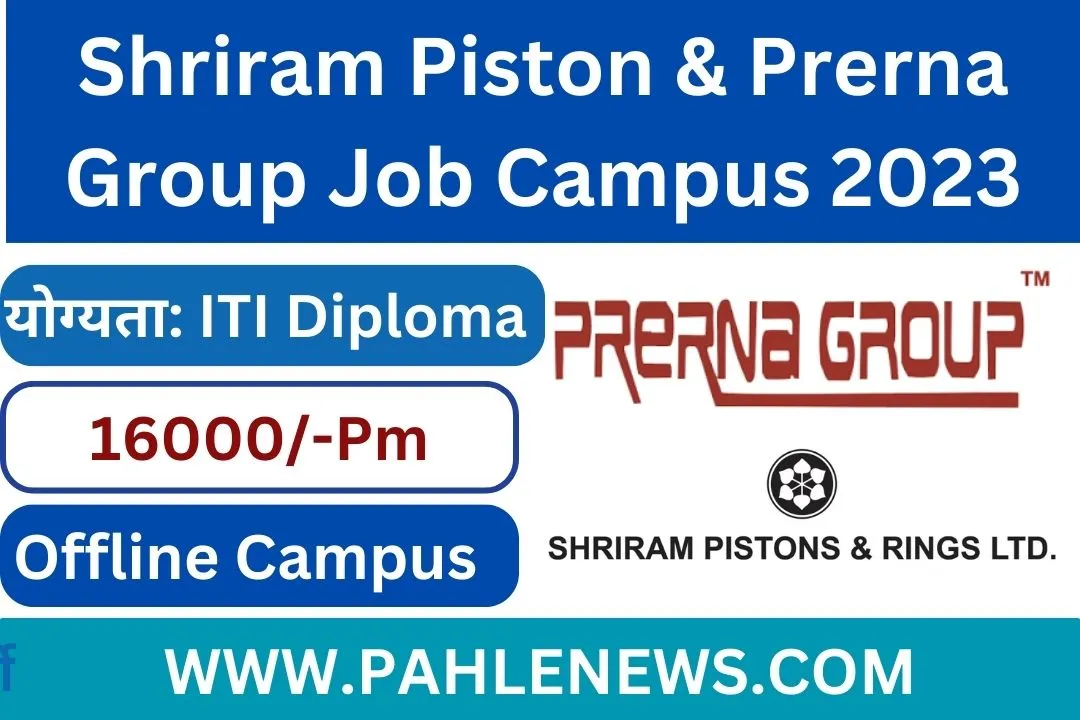 आज हम आपको एक ऐसे ही एक कॅम्पस के बारे मे बताने वाले है यह कॅम्पस Agra मे आयोजित होने जा रहा है । इस कॅम्पस मे सभी योग्य आईटीआई/डिप्लोमा पास छात्र इस कॅम्पस मे भाग ले सकते है इस कॅम्पस मे भाग लेने के लिए किसी भी प्रकार ऑनलाइन रजिस्ट्रैशन नहीं किया जाएगा । इस कॅम्पस मे भाग लेने के लिये आपको राजकीय आईटीआई बलकेसवर आगरा मे जाना होगा । इस कॅम्पस से जुड़ी सम्पूर्ण जानकारी आपको नीचे दी गई है ।
Basic Details For Shriram Pistion and Prerna Group Job Campus 2023
| | |
| --- | --- |
| Company Name | |
| Position | Machine Operator |
| Total Post | 100 + |
| Job Location | Rajasthan |
| Salary For Prerna Group | 15812/- Pm |
| Salary For Shriram Piston | 15905/- Pm |
| Other Benefit | PF, ESI, Canteen, Overtime, Dress, |
Eligibility Criteria For Shriram Pistion and Prerna Group Job Campus

Age Limit: 18 To 30 Year's
Qualification: 10th, 12th, ITI, Diploma Pass Out
ITI Trade: Fitter Turner, Diesel Mechanic, Electrician, Tool & Die Making, Press Shop.
Diploma Branch: Mechanical, Electrical, Automobile.
Pass Out Year: Not Disclosed
Experience: Fresher
Required Document: Aadhar Card, Pan Card, 10th Marksheet, ITI Marksheet, Bio Data, 10 Passport Size Photo, Bank Passbook, Vaccination Certificate & All Document are Original and 3 Set Photocopy.
Read Also:-
Shriram Pistion and Prerna Group Job Campus Details
Campus Venue: Govt ITI Agra UP.
Interview Date: 21 August 2023
Time: 09:00 AM
More Details: Click Here

WhatsApp Group
Join Now

WhatsApp Channel
Follow Now

Telegram Group
Join Now