WhatsApp Group
Join Now

WhatsApp Channel
Follow Now

Telegram Group
Join Now
Neel Metal Recruitment 2023 | ITI Jobs | Free Job Campus | ITI Campus Placement
Neel Metal Recruitment 2023: सभी बेरोजगार यवाओ को सूचित किया जाता है की नील मेटल कंपनी द्वारा कंपनी मे आईटीआई पास छात्रों की भर्ती हेतु एक जॉब कॅम्पस का आयोजन किया जा रहा है, अगर आप भी इस कॅम्पस मे भाग लेकर नील मेटल कंपनी मे जॉब करना चाहते है तो आपको इस कॅम्पस मे भाग लेने के लिए नीचे दिये गए कॅम्पस मे जाना होगा, यह कॅम्पस शारदा आईटीआई तथा फतेह बहादुर सिंह आईटीआई मे होने जा रहा है, इस कॅम्पस मे देश के किसी भी आईटीआई से पास छात्र भाग ले सकते है, इस कॅम्पस मे जाने के लिए किसी भी प्रकार का ऑनलाइन आवेदन नहीं किया जाएगा । इस कॅम्पस मे भाग लेने के लिए योहयत संबंधित जानकारी नीचे दी गई है ।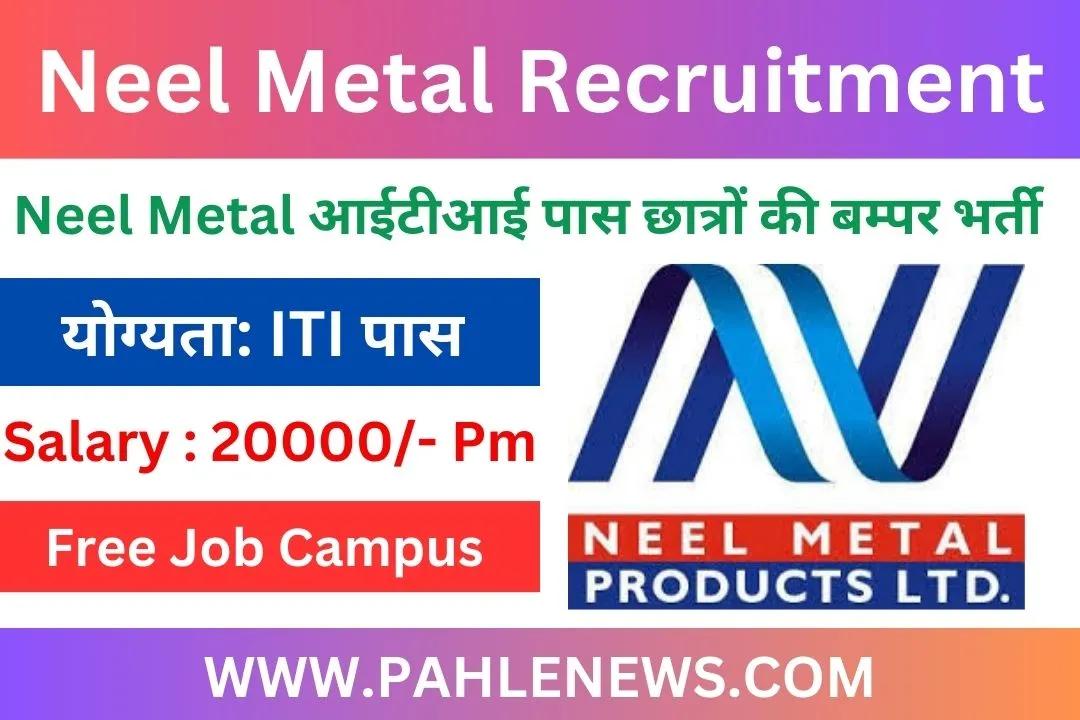 Basic Details Of Neel Metal Job Campus Placement
Company Name: Neel Metal Pvt. Ltd.
Position: Trainee
Job Location: As Per Company Requirement
Salary: 20000/- Pm
Eligibility Criteria For Neel Metal Job Campus 2023
Age Limit: 18 To 40 Year's
Gender: Male Only
Qualification: 10th + ITI Pass Out
ITI Trade: Fitter, Electrician, Welder, Automobile, Iron & Steel, Tool & Die, Machinist, Diesel Mechanic, etc.
Pass Out Year: Not Disclosed
Experience: Fresher/ Experienced
Required Document: Aadhar Card, Pan Card, Bio Data, 10th Pass Marksheet, ITI Marksheet, Passport Size 5 Color Photo, Bank Passbook, All Document are Original and Photocopy.
Neel Metal Job Campus Details
Campus Venue : फतेह बहादुर सिंह शिव शंकर सिंह आईटीआई ससना, बहादुरपुर अखोप, बिल्थरारोड , बलिया
Interview Date: 19 April 2023
Time: 09:00 Am
More Details: Click Here
---
Campus Venue: Sharda Pvt. ITI Mohamdpur, Garkha, Saran
Interview Date: 12 April 2023
Time: 09:00 Am
More Details: Click Here

WhatsApp Group
Join Now

WhatsApp Channel
Follow Now

Telegram Group
Join Now